Monkey Pox Tabletop Exercise Partnered by the NTI & MSC in 2021
"In March 2021, NTI partnered with the Munich Security Conference to conduct a tabletop exercise on reducing high-consequence biological threats. The exercise examined gaps in national and international biosecurity and pandemic preparedness architectures—exploring opportunities to improve prevention and response capabilities for high-consequence biological events. This report summarizes the exercise scenario, key findings from the discussion, and actionable recommendations for the international
community"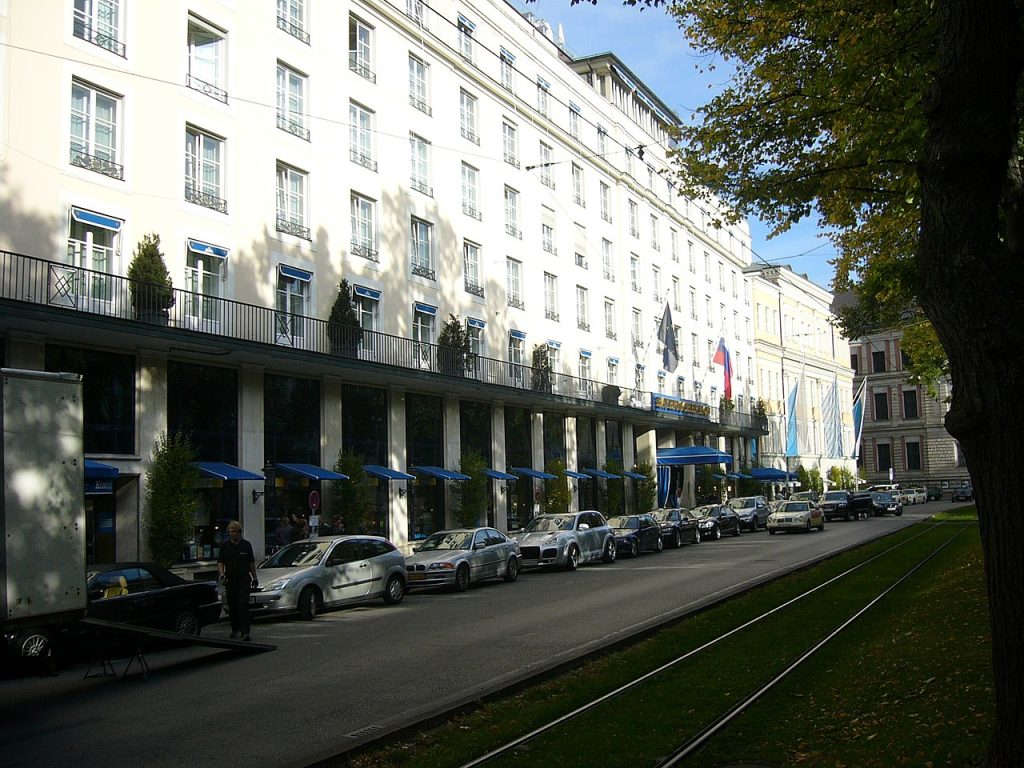 In this blog we're going to discuss another 2 secret or under the radar organisations similar to the WEF, that also do simulation pandemic preparedness tabletop exercises that seemingly turn into reality, similar to Event 201 in 2019 and a few others that have taken place like Dark Winter in 2001.
I'm going to go into specific detail about the people involved in The Munich Security Conference (MSC) & The Nuclear Threat Initiative (NTI).
Most of the individuals that are present in all of these exercise events, work for NGOs, Corporates, and wealthy individuals they are always present, as well as the usual mix on intelligence service operatives. The Munich Security Conference hold their annual meeting in Bavaria of all places.
Last year in March 2021 two groups, The Munich Security Conference & The Nuclear Threat Initiative held a tabletop exercise. Some of the names you may no of heard of in the published document are Jaime M. Yassif, Ph.D. Kevin P. O'Prey, Ph.D., (I did find a document from 2006, which says he's an expert in the analysis of homeland security challenges, facilitates the Cabinet-level, White House-sponsored Catastrophic Assessment Task Force (CATF) series that assesses federal capacity to manage catastrophic events. He also facilitates strategic planning for government and international agencies, & Christopher R. Isaac, M.Sc.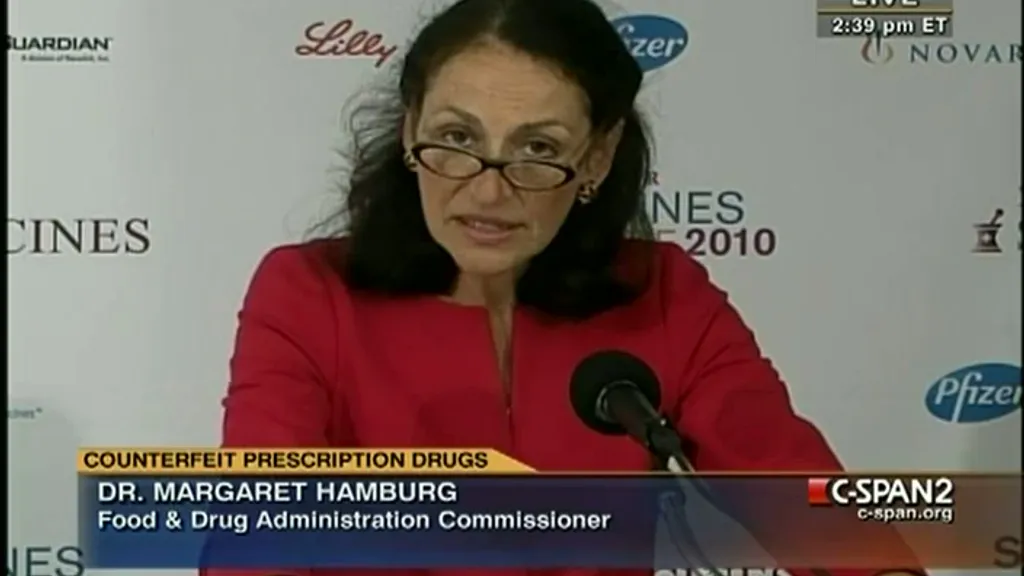 The report was signed off by Margret A Hamburg M.D. (above) who is the Interim Vice President, of Global Biological Policy and Programs for the US NGO Nuclear Threat Initiative, we will come to the NTI & Dr Hamburg in a bit but let's quickly look at the leader of the three mentioned earlier.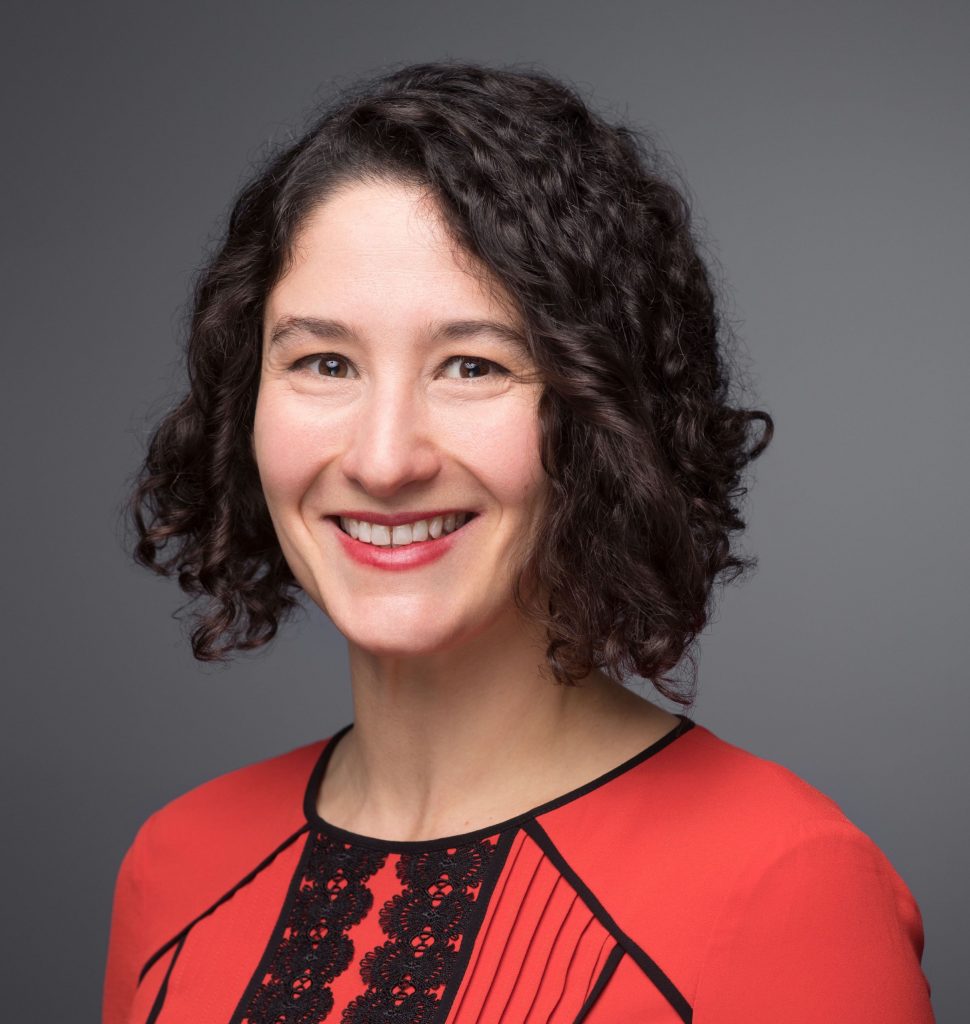 Jaime M. Yassif, Ph.D. is also Vice President for Global Biological Policy and Programs at NTI, where she oversees the program's work to reduce global catastrophic biological risks, strengthen biosecurity and pandemic preparedness, and drive progress in advancing global health security.
Yassif previously served as a Program Officer at Open Philanthropy, where she led the Biosecurity and Pandemic Preparedness initiative and managed approximately $40 million in biosecurity grants. Prior to this, Yassif served as a Science and Technology Policy Advisor at the U.S. Department of Defense and worked on the Global Health Security Agenda at the U.S. Department of Health and Human Services.
Previously, Yassif was a Science and Technology Policy Advisor at the U.S. Department of Defense, where she focused on oversight of the Cooperative Threat Reduction Program and East Asia security issues. During this period, she also worked on the Global Health Security Agenda (GHSA) at the Department of Health and Human Services, where she helped lay the groundwork for the WHO Joint External Evaluations and the GHSA Steering Group.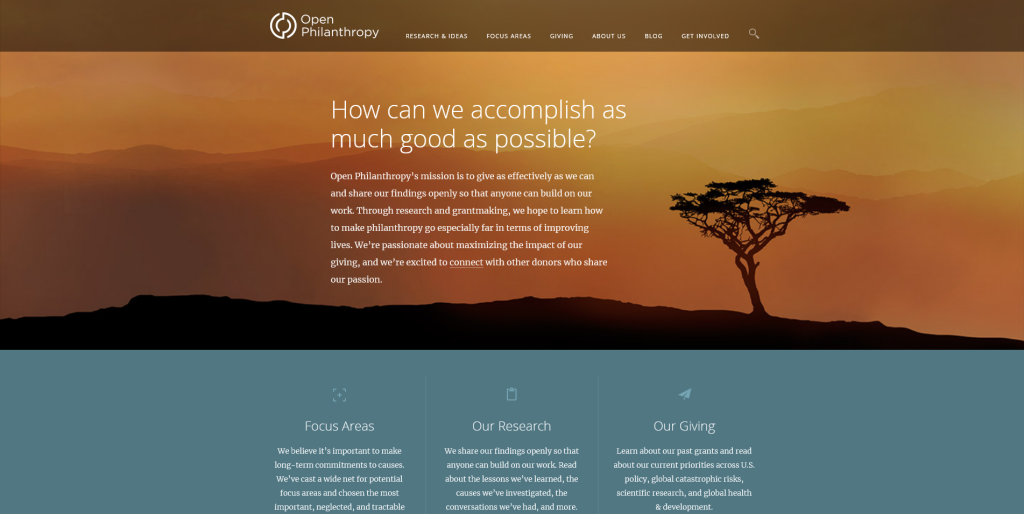 Yassif's previous experience includes work with, Connecting Organizations for Regional Disease Surveillance (CORDS).
In 2007, the Rockefeller Foundation used funds from the Nuclear Threat Initiative to convene in Bellagio for "regional surveillance networks from across the globe to initiate a dialogue about how to harness lessons learned, emerging technologies, and nascent support."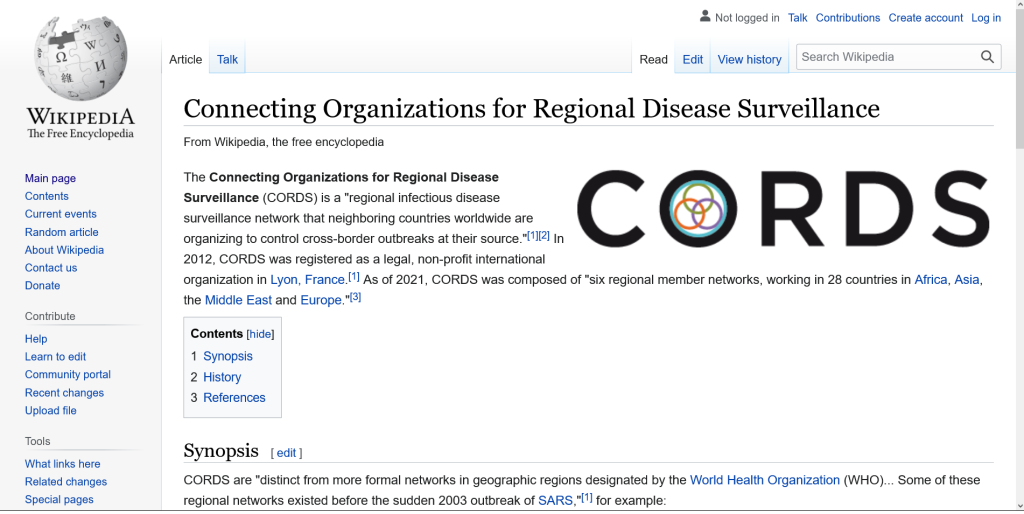 Yassif is part of Chatham House, also known as the Royal Institute of International Affairs, which is an independent policy institute headquartered in London. Its mission is to provide authoritative commentary on world events and offer solutions to global challenges. The Federation of American Scientists (Federation of American Scientists) is an American non-profit global policy think tank with the stated intent of using science and scientific analysis to attempt to make the world more secure.
The Tsinghua University Institute for International Studies, is a national public research university in Beijing, China. The university is funded by the Ministry of Education. Tsinghua University is a member of the C9 League, is an alliance of nine universities in China, initiated by the Chinese Central Government
Yassif also worked on Clade X tabletop exercise; Clade X was a pandemic modelling exercise by Johns Hopkins University's Center for Health Security, which occurred on Tuesday, May 15, 2018, named after the hypothetical infective agent.
In the simulation, the hypothetical pandemic resulted in 900 million simulated deaths. The exercise was invitation-only and nearly 150 people attended.
CLADE X Another Table Top Simulation Exercise 2018 Video Above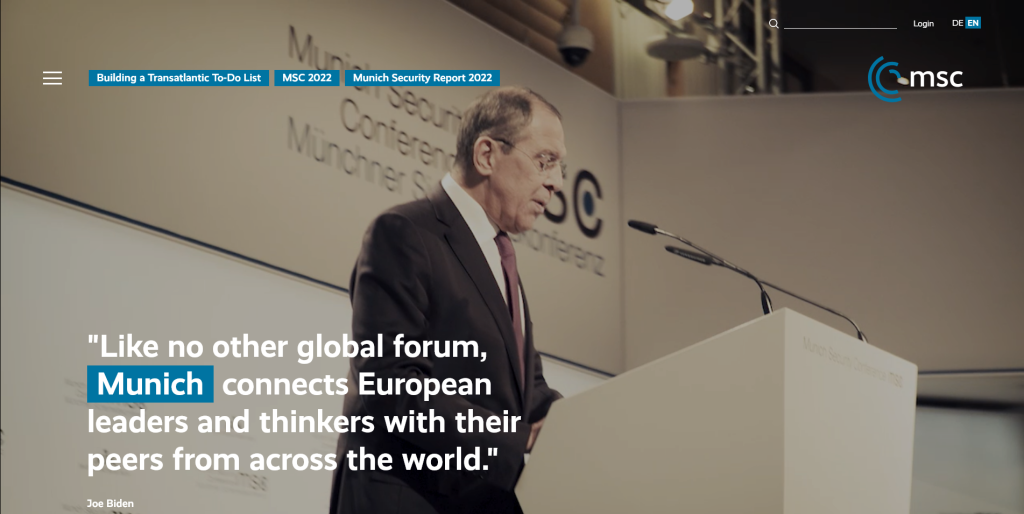 The Munich Security Conference, is an annual conference on international security policy that has been held in Munich, Bavaria, Germany since 1963.
Is this a coincidence that this annual conference is in the heartland of the Illuminati?
The Munich Security Conference is the world's largest gathering of its kind. Yet another huge meeting attended by the same characters who attend the WEF, Bilderbergers, CFR, Trilateral Commission, and the other secret meetings that take place.
The conference was founded in 1963 by Ewald-Heinrich von Kleist-Schmenzin. The first meeting was limited to about 60 participants; among the attendees were Helmut Schmidt ex German Chancellor and Sir Henry Kissinger.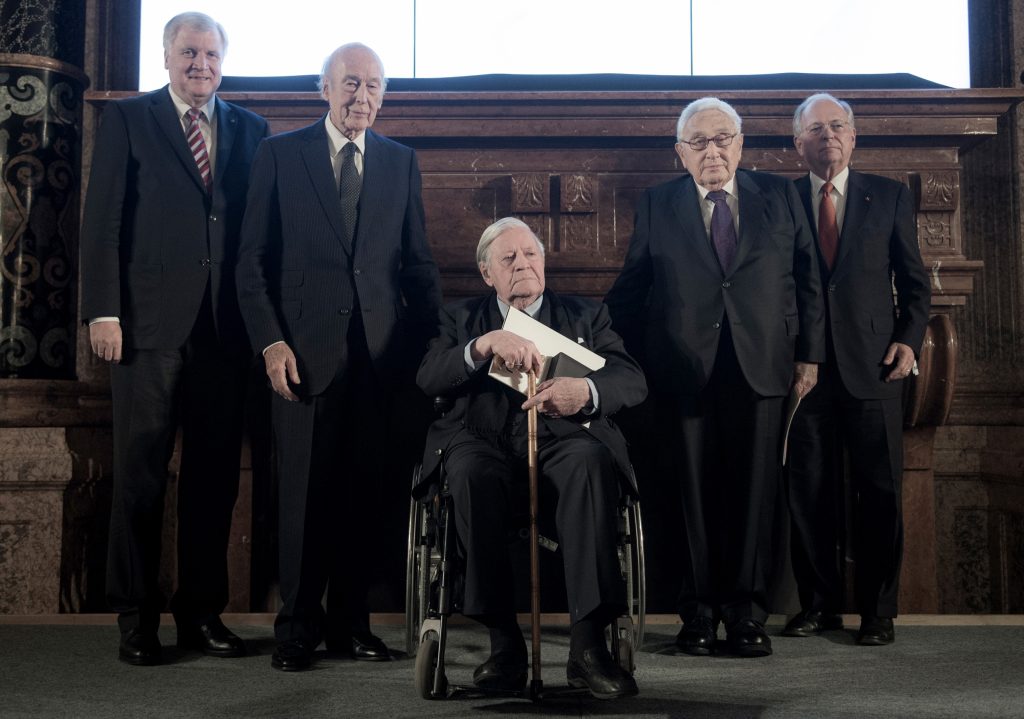 Von Kleist led the meetings until 1997; he attended Bilderberger meeting since 1998-2018. Since 2009, the conference is headed by the former diplomat Wolfgang Ischinger.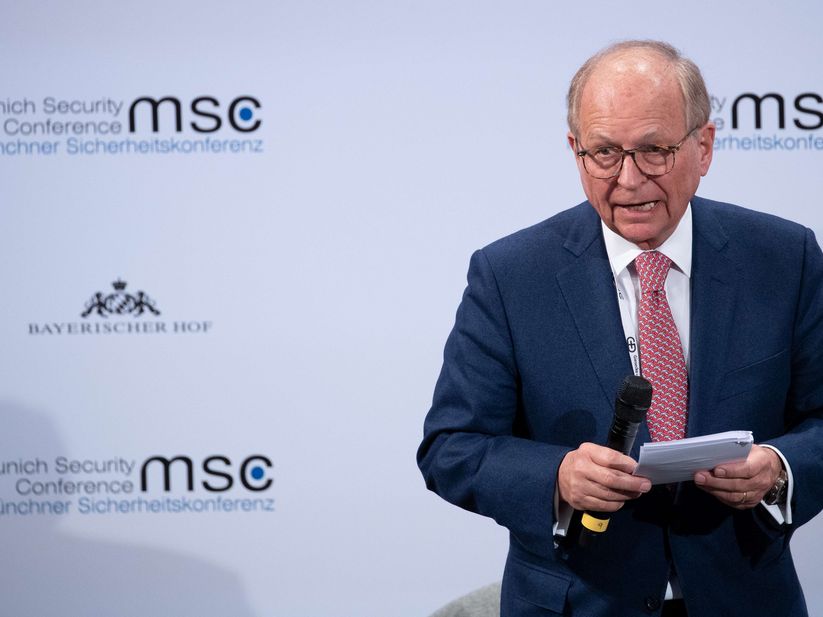 Ischinger is a German diplomat who served as chairman of the Munich Security Conference from 2008 to 2022. From 1973 to 1975, Ischinger served on the staff of the Secretary General of the United Nations in New York. He is a Member of the Atlantic Council/Board, Atlantik-Brücke, Centre for European Reform, European Council on Foreign Relations, European Leadership Network, German Council on Foreign Relations, German Institute for International and Security Affairs, German Marshall Fund, Institute for Strategic Dialogue, The American Academy in Berlin, Trilateral Commission, he was German ambassador to the UK & US.
He is also on the governing board of the Stockholm International Peace Research Institute, founded in 1966 it provides data, analysis and recommendations for armed conflict, military expenditure and arms trade as well as disarmament and arms control. The research is based on open sources and is directed to decision-makers, researchers, media and the interested public.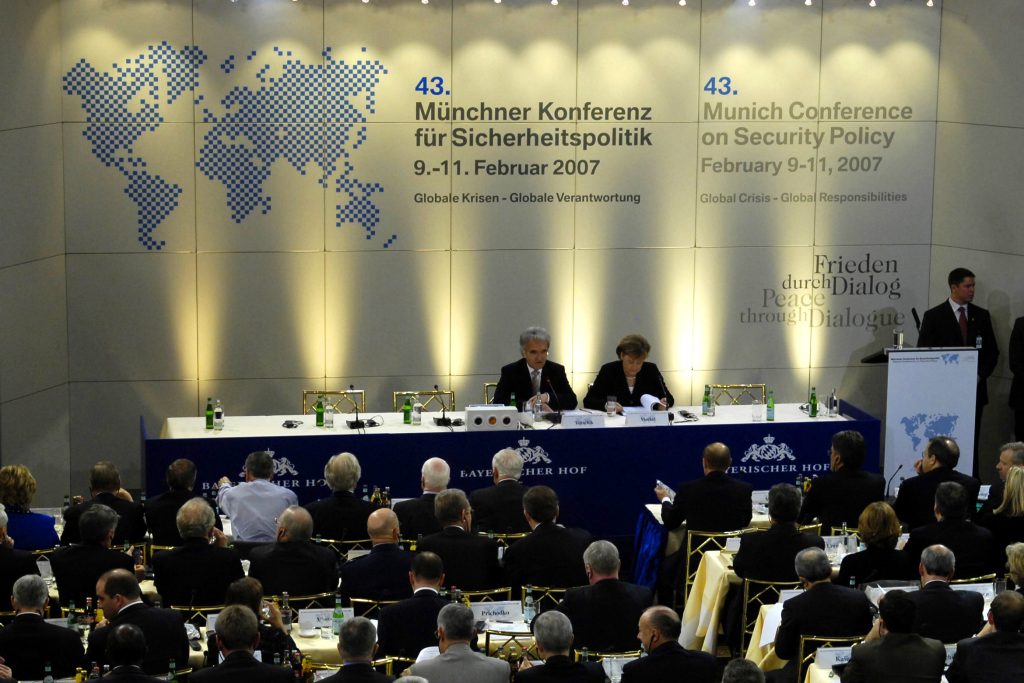 There is no free lunch so the saying goes, but when it comes to the revolving corporate doors Prof. Horst Teltschik will never go hungry.
Dr. Horst Teltschik was a chair of the Munich Security Conference from 1999-2008, a Bilderberger from 1982, and affiliations to the CFR,
1991-92 he was CEO of the Bertelsmann Foundation the huge media corporation Bertelsmann Group (which includes such brands as Penguin Random House). 1993-2000 he was a member of the BMW Group Board of Management (BMW are a MSC donor). 1993-2003 he was the chairman of the BMW Herbert Quandt Foundation in Munich. From 2003 he was a president of Boeing Germany. 2002-2010 he was a board member of the pharmaceutical company Roche.
Around 600 guests attend the annual MSC conference. Their website boasts that it hosts some "of the most important decision-makers in the realm of international security policy".
At the 2008 MSC large corporations agreed a "Charter of Trust for cybersecurity", an idea floated by Siemens CEO, Joe Kaeser, at the World Economic Forum in 2007. Joe Kaeser is a Bilderberger 2015 & 2016 and WEF, he is also a Member of Bavaria/COVID-19 Economic Advisory Council, European Round Table of Industrialists. Kaeser was born in Arnbruck, in the Bavarian Forest in West Germany.
Kaeser also sits on the boards of Allianz Deutschland AG, JPMorgan, Daimler & NXP Semiconductors. Kaeser is also a member of the European Round Table of Industrialists & Trilateral Commission & Member of the European Group.
So definitely no conflicts of interest then.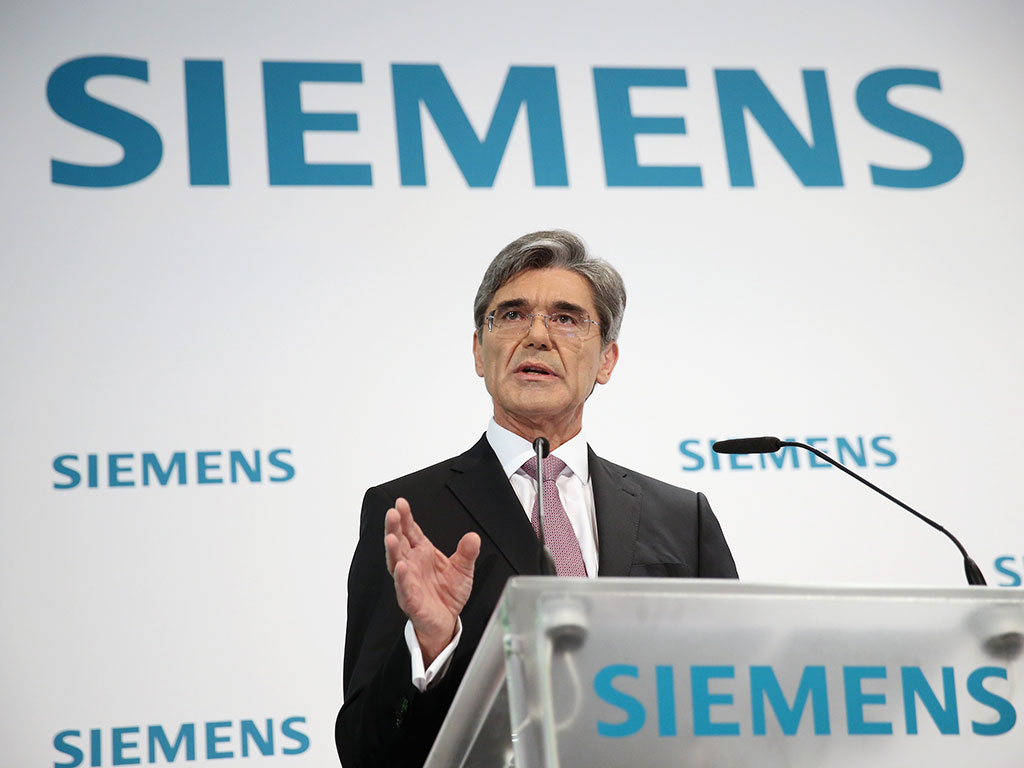 Siemens is a corporate funder/partner of the WEF.
Siemens is a global maker of medical diagnostics equipment and its medical health-care division and is engrossed in the 5G rollout.
Prior to the NTI 2021 tabletop exercise conducted by Seimans in partnership with the Munich Security Conference, entitled Strengthening Global Systems to Prevent and Respond to High-Consequence Biological Threats.
This report which was signed off by Margaret A. Hamburg, M.D. Interim Vice President, Global Biological Policy, and Programs Nuclear Threat Initiative.
It turns out that, by Margaret A. Hamburg is the daughter of Beatrix Hamburg and David A. Hamburg, both physicians. Her mother was the first self-identified African-American woman to be accepted at Vassar College (the college is one of the historic Seven Sisters, the first elite women's colleges in the U.S).
Her father is President Emeritus of the Carnegie Corporation of New York and also served as the president of the AAAS in 1984, which is The American Association for the Advancement of Science, an American international non-profit organization with the stated goals of promoting cooperation among scientists, defending scientific freedom, encouraging scientific responsibility, and supporting scientific education and science outreach for the betterment of all humanity, with over 120,000 members, and is the publisher of the well-known scientific journal Science, AAAS created on September 20, 1848.
Hamburg is married to Peter Fitzhugh Brown, a computer scientist and artificial intelligence expert & CEO of the American hedge fund Renaissance Technologies also known as RenTech.
They were top donors to both presidential campaigns of Hillary Clinton and Donald Trump. In 1984 Peter Fitzhugh Brown joined IBM, incidentally his father worked for Rockefeller banks after graduating from college he first worked for the Chemical Bank in the early 1950s and later worked for a company that would later become part of Citibank, Brown is known for inventing the world's first money market fund, the Reserve Fund, with Bruce R. Bent in 1970
Back to Margaret Ann "Peggy" Hamburg.
Hamburg was ranked on the list of The World's 100 Most Powerful Women three times ranking 21st in 2011. Two months prior to the Covid-19 pandemic. Hamburg was member of a meeting held at the Milken Institute, titled "Universal Flu Vaccine" (dated October 29, 2019) with other government officials including Anthony Fauci, speaking about the need to "blow up the system" in order to bypass regulatory control on mRNA vaccines. 
This was the meeting, please watch.
Also discussed in the meeting, held at the Milken Institute School of Public Health, was the need to create an "aura of excitement" and "make influenza sexy" in order to revive government funding and have hyper-production of the mRNA vaccines which she and others in the meeting believed were superior to "traditional egg-based vaccines"
One of the speakers was journalist Michael Specter.
His 2009 book, Denialism: How Irrational Thinking Hinders Scientific Progress, Harms the Planet, and Threatens Our Lives. Tells us all which side of the fence he stands in. His book explores the ways in which people in the United States and Europe have increasingly rejected scientific truths, that are backed by impressive data.
Specter like Hamburg is also a graduate of Vassar College.
The other speaker is Rick Arthur Bright, immunologist, vaccine researcher, and public health official. Bright worked at the non-profit PATH on a Bill & Melinda Gates Foundation grant funded project as the director in vaccine manufacturing capacity building in Vietnam.
The Milken Family Foundation, a private foundation established by Lowell Milken and Michael Milken in 1982, focused primarily on supporting education and medical research. Lowell was/is on the Board of Overseers for Jerusalem Center for Public Affairs. Which, since 2000 it has focused its efforts on 'hasbara' activities, which it describes as "the need to present Israel's case in the wake of the renewed Palestinian violence".
In 1990, Milken founded the Milken Archive of Jewish Music, a project to preserve the music of the American Jewish experience. His brother Michael In a November 2004 cover article, Fortune magazine called him "The Man Who Changed Medicine" for changes in approach to funding and results that he initiated. In March 1989, a federal grand jury indicted Milken on 98 counts of racketeering and fraud.
As part of his plea, Milken agreed to pay $200 million in fines. At the same time, he agreed to a settlement with the SEC in which he paid $400 million to investors who had been hurt by his actions. He also accepted a lifetime ban from any involvement in the securities industry. In a related civil lawsuit against Drexel, he agreed to pay $500 million to Drexel's investors, On February 18, 2020, Trump granted a full pardon to Milken
Back to Mrs Hamburg.
Hamburg was nominated by President Barack Obama in March 2009 to become Commissioner of the Food and Drug Administration a well-known revolving door from Big Pharma and US Governments. Hamburg doesn't disappoint, she is intimately tied to Big Pharma via Henry Schein Inc. the largest U.S. distributor of flu vaccines, the company participated in the pandemic exercise Event 201. One of Henry Schein Inc's focus areas is "humanitarian relief, disaster preparedness and response"
Henry Schein, Inc. has revenues of $10bn, Henry Schein has been recognized by the Ethisphere Institute as the World's Most Ethical Company six times as of 2017. The Ethisphere Institute is a for-profit company that defines and measures corporate ethical standards, recognizes companies that excel, and promotes best practices in corporate ethics.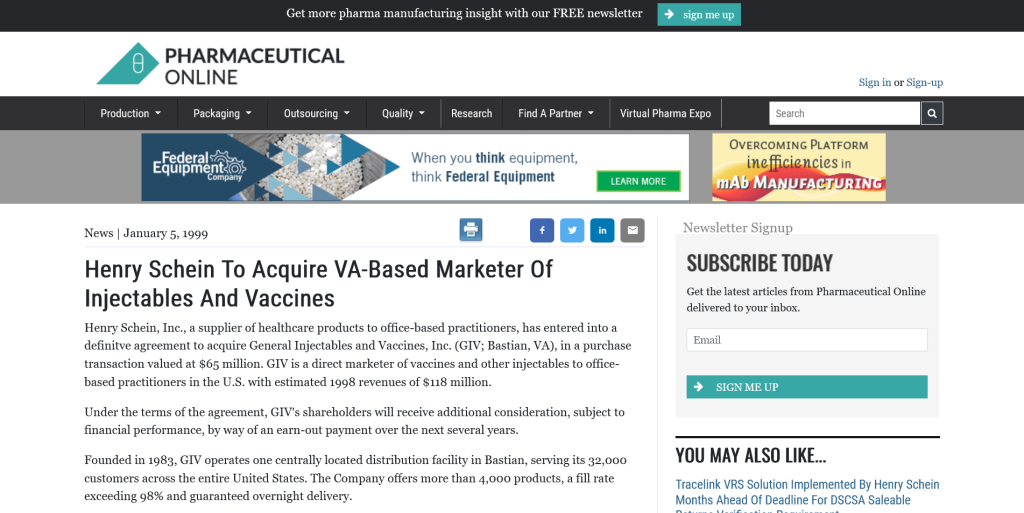 However, Ethisphere has been criticized for its business model and the possible conflict of interest created when other companies pay for an assessment. Ethisphere assesses companies based on self-reported data and a survey. Henry Schein Inc. was one of the six main defendants in lawsuits with state and local governments for being part of the opioid epidemic in the United States.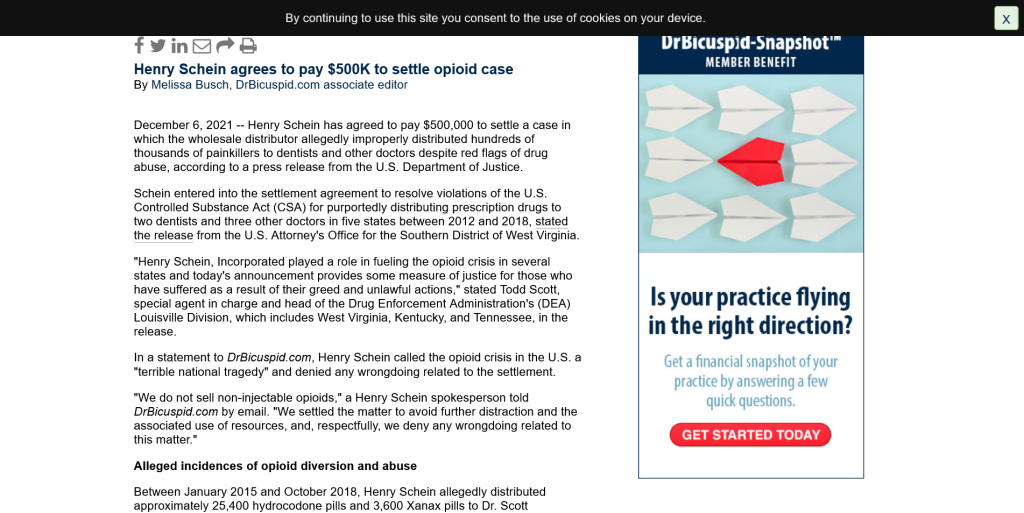 Henry Schein, Inc. is the United States' biggest distributor of dental products, including mercury amalgams.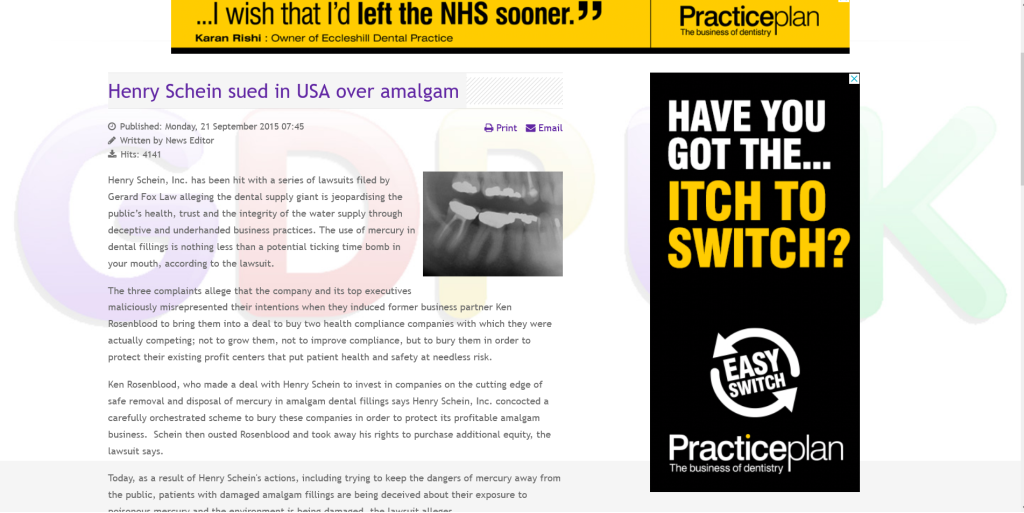 Back to Hamburg, 2021, she is on the board of the Council on Foreign Relations and the Global Health Scientific Advisory Committee of the Bill and Melinda Gates Foundation and the Welcome Trust. She was formerly on the boards of the Rockefeller Foundation and the Rockefeller University & Global Alliance for Vaccines and Immunization.
Interestingly since 2018 she member of the board of directors Alnylam Pharmaceuticals, that is a biopharmaceutical company focused on the discovery, development and commercialization of RNA interference (RNAi) therapeutics for genetically defined diseases.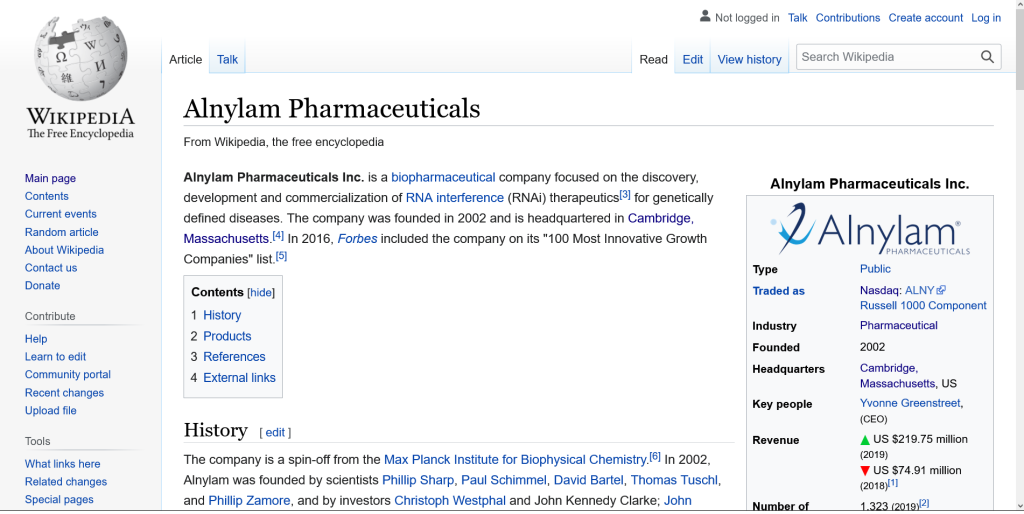 Alnylam Pharmaceuticals was named after Alnilam, a star in Orion's belt. The spelling was modified to make it unique, in 2003, the firm merged with the German pharmaceutical company, Ribopharma AG.
The newly formed company also received $24.6 million in funding from private-equity firms. In 2007, it entered into a nonexclusive alliance with Hoffmann-La Roche, in which Alnylam received $331 million in exchange for access to its technology platform in 2009, the company formed alliances with Cubist Pharmaceuticals and Kyowa Hakko Kirin to market a drug targeted at In 2011, it partnered with GlaxoSmithKline to develop RNAi technology enhancing vaccine production. The company entered into a 10-year alliance with Monsanto in 2012, to develop biotech solutions for the farming industry by developing natural molecules for crop protection
In 2014, Sanofi Genzyme acquired a 12 percent stake in Alnylam and increased its rights to several of the company's drugs for $700 million. In a separate transaction Alnylam announced that it had purchased Merck & Co.'s Sirna Therapeutics, for $25 million cash and $150 million in stock
In 2015, the company had $41 million in revenue and a market cap of $5.2bn. In December 2021, Alnylam submitted a clinical trial authorisation (CTA) application to the Medicines and Healthcare Products Regulatory Agency in the United Kingdom to initiate a Phase 1 study of ALN-APP, an investigational RNAi therapeutic targeting amyloid precursor protein (APP) for the treatment of Alzheimer's disease and cerebral amyloid angiopathy.
Does this sound like maybe Hamburg has a conflict of interest?
In 2020, Hamburg was appointed by the Council on Foreign Relations to serve on its Independent Task Force on Improving Pandemic Preparedness, co-chaired by Sylvia Mathews Burwell (Burwell is on the Aspen Strategy Group, Council on Foreign Relations Member, Trilateral Commission, WEF/Young Global Leaders 2005, Bill & Melinda Gates Foundation, and she attended her first Bilderberg meeting in 2018).
Also on the board was Frances Fragos Townsend (Homeland Security Advisor, currently serves on the boards of the Council on Foreign Relations, the Trilateral Commission, and the International Republican Institute, Aspen Strategy Group, CIA External Advisory Board, )
That year Hamburg also served on the CSIS-LSHTM High-Level Panel on Vaccine Confidence and Misinformation amid the COVID-19 pandemic, co-chaired by Heidi Larson and J. Stephen Morrison.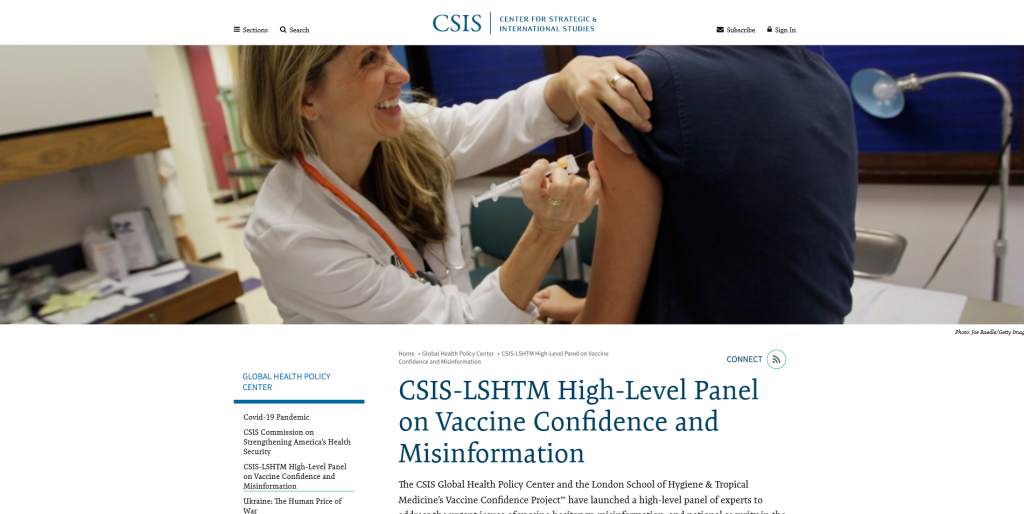 The Call for Action CSIS-LSHTM High-Level Panel on Vaccine Confidence and Misinformation was an October, 2020 panel discussion arranged by the deep state think-tank Center for Strategic and International Studies (CSIS) and one of the 3-4 research institutions that have been most central in the COVID-19 psy-op, the London School of Hygiene and Tropical Medicine (LSHTM).
Hamburg was also a participant in the Clade X simulation event on May 15, 2018, Clade X was a pandemic planning exercise led by Johns Hopkins Center for Health Security, formally to counter a fast-moving and deadly epidemic released on purpose by a terrorist group consisting of scientists and their rich backers wanting to reduce overpopulation. The participants included the CIA.
Hamburg was a member of Operation Dark Winter; Dark Winter was another simulation "exercise" on 22-23 June 2001
"Where senior former officials would respond to a bioterrorist induced national security crisis" where "terrorists" started a smallpox outbreak in the US.
One of the other participants, Robert Kadlec (CFR). Kadlec was put in charge of the U.S. Department of Health and Human Services (HHS) entire Covid-19 response efforts.
At the 2020 NTI/MSC meeting in February, held during the Munich Security Conference, the US think-tank Nuclear Threat Initiative paid for a scenario-based tabletop exercise with senior leaders from around the world "to identify gaps in global capabilities to prevent and respond to a high-consequence biological event.
Participants were asked to consider the scenario and candidly (under Chatham House rules of secrecy) discuss gaps in mechanisms, coordination, and information sharing to reduce biological risks associated with advances in technology and high-consequence biological events.
As the organizers point out
"Although the event had been planned for months, the fictional disease in the scenario swept the globe in a way eerily similar to COVID-19 and foreshadowed the widespread impact and paralyzing knock-on effects that the world is now experiencing." Participants determined "
"Global leaders must consider bold changes to the international biosecurity architecture"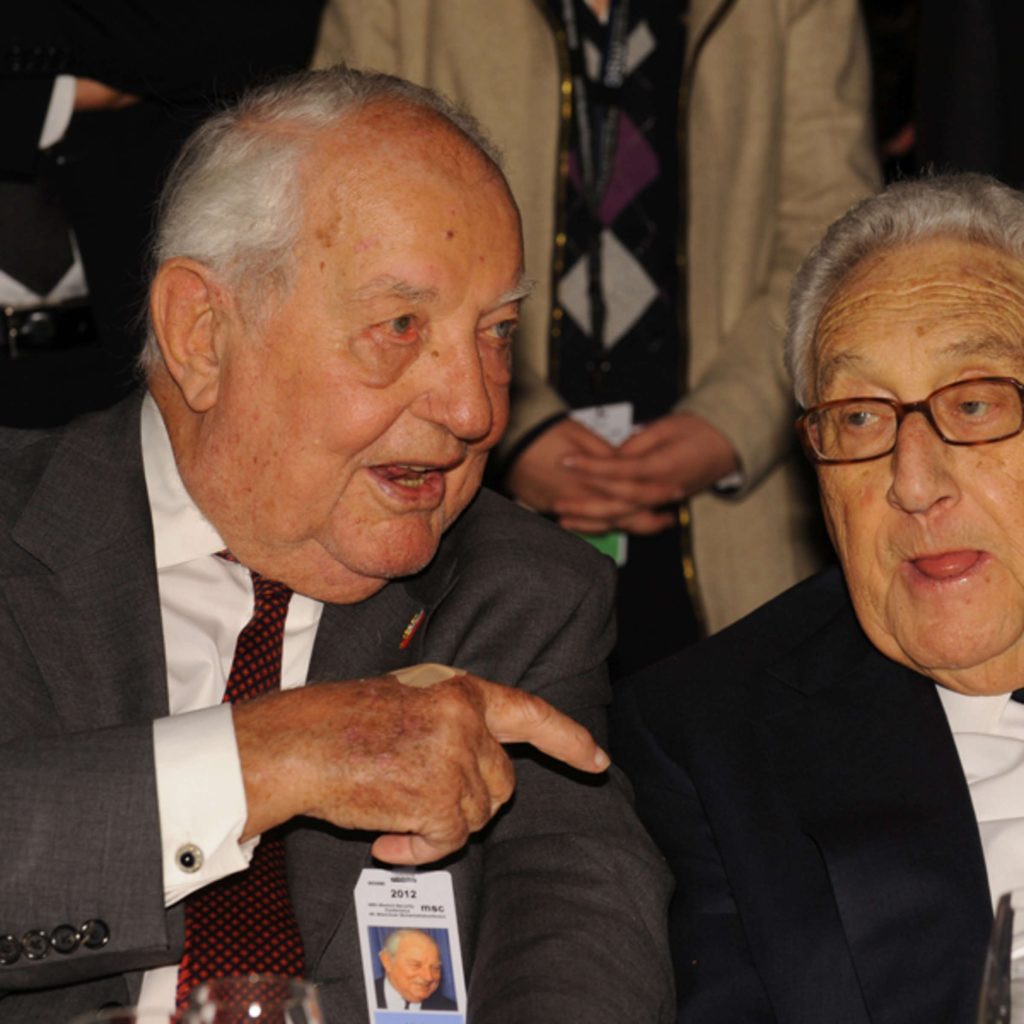 The founder of the Munich Security Conference was Ewald-Heinrich von Kleist-Schmenzin he was an officer in the Wehrmacht during World War II, his parents were active in the German resistance against Adolf Hitler.
Von Kleist was designated to kill Hitler in a suicide attack and was the last surviving member of the 20 July 1944 plot to assassinate Hitler.
In 1940, at 18, he joined the Wehrmacht as an infantry officer. He served on the Eastern Front near Lake Ladoga and was wounded in July 1943. While recovering in Potsdam, von Kleist was personally recruited for the resistance by Claus Graf Schenk von Stauffenberg. In January 1944, with his father's blessing, he volunteered to replace the wounded Axel Freiherr von dem Bussche-Streithorst in another suicide assassination attempt on Hitler.
Whether this is true or just another CIA persona building exercise we'll never know.
Axel Freiherr – Ironically, Freiherr holder of the NAZI Knight's Cross of the Iron Cross, after the war went on to teach at the Schule Schloss Salem, school founded by Kurt Hahn CBE, and part of the Duke of Edinburgh's Award, and the first of the United World Colleges, Atlantic College. The same school's group that the Trudeaus & Chrystia Freeland (Dep PM of Canada) attended.
Freiherr was also an adviser to the World Bank, and a delegate to the UN environment conference of 1972 in Stockholm.
In 1950, he married Lady Mildred Camilla Nichola Acheson, eldest daughter of the 5th Earl of Gosford who was a member of the Order of St John short for Most Venerable Order of the Hospital of Saint John of Jerusalem, also known as St John International, Axel Freiherr was also a Knight of Honour of the Order of Saint John, as is Sir Tony B-Liar.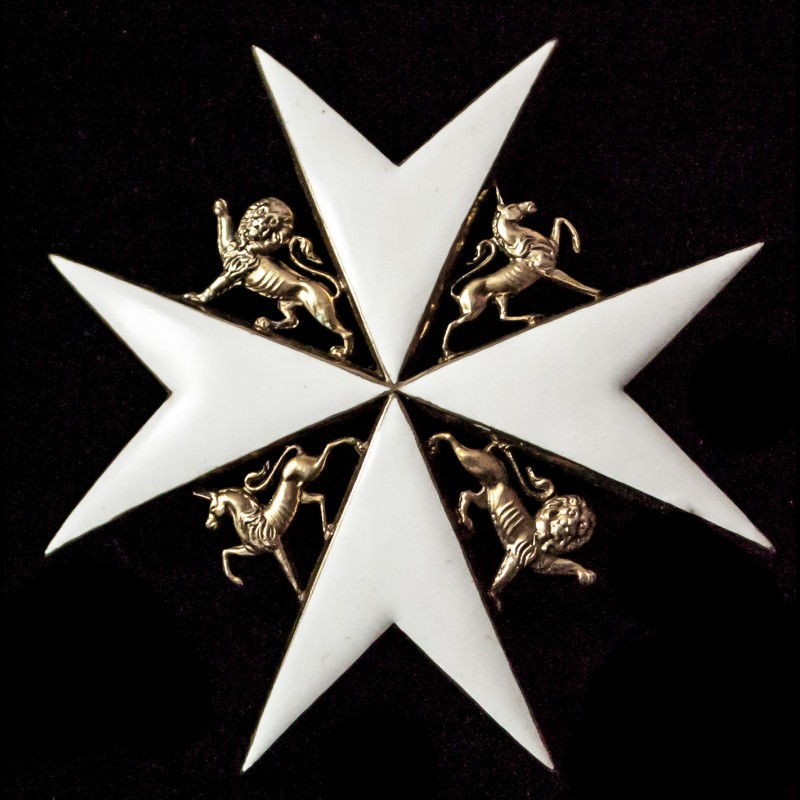 Which links in nicely back to the founder of the Munich Conference on Security Policy Ewald-Heinrich von Kleist-Schmenzin. Who after the war he was left homeless when most of Pomerania was transferred to Poland and all of its Germans were expelled. Von Kleist went into the publishing business in West Germany and founded his own publishing house, the Ewald-von-Kleist-Verlag, which became a leading German publishing house.
Heinrich von Kleist-Schmenzin joined the Protestant Order of Saint John (Bailiwick of Brandenburg) to which his executed father had belonged, and he was admitted as a Knight of Honour in 1957 and promoted to Knight of Justice in 1975.
The Order of Saint John, The Bailiwick of Brandenburg of the Chivalric Order of Saint John of the Hospital at Jerusalem. The Order is led by its thirty-seventh Herrenmeister ("Master of the Knights" or Grand Master), Prince Oskar of Prussia. Each of its knights, or around four thousand men worldwide, is either a Knight of Justice (Rechtsritter) or a Knight of Honor. Membership in the Order is by invitation only, and individuals may not petition for admission; it is not limited to German citizens or German speakers, and knights include citizens and residents of most major nations.
The basic insignia of the Order is a white-enamelled Maltese cross. The Kleist family is a Pomeranian Prussian noble family. Notable members of this family include: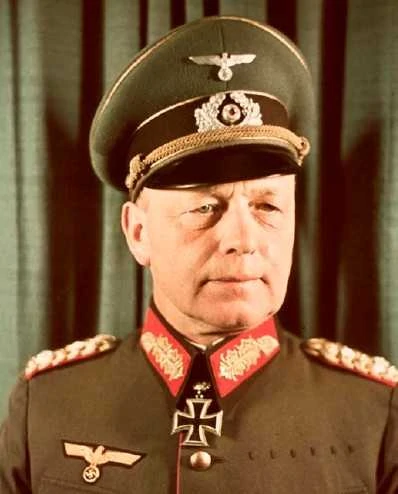 Paul Ludwig Ewald von Kleist, German field marshal during World War II. Kleist was the commander of Panzer Group Kleist (later 1st Panzer Army), the first operational formation of several Panzer corps in the Wehrmacht during the Battle of France, the Battle of Belgium, the Invasion of Yugoslavia and Operation Barbarossa, the invasion of the Soviet Union.
This Von Kleist was said to be a resistance fighter from the Stauffenberg circle advocated to prevent military conflicts such as the Second World War in the future and brought together leaders and experts in security policy for this reason.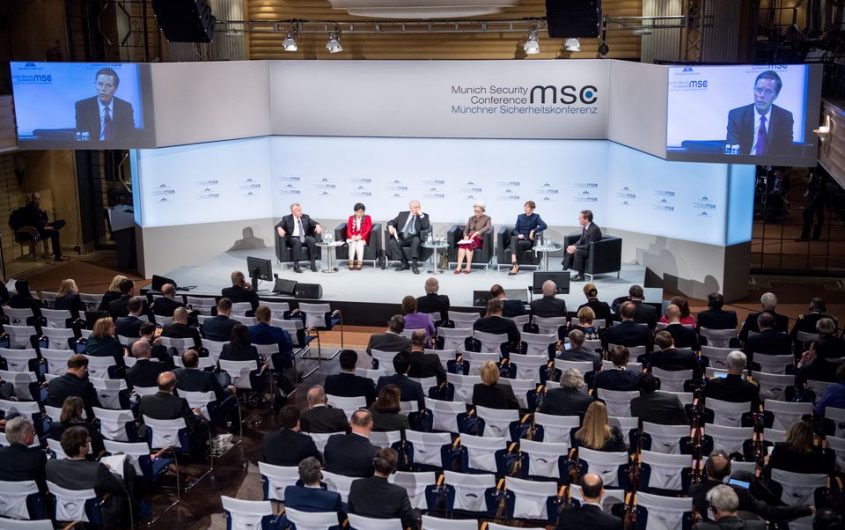 Over the past four decades the Munich Security Conference has become the most important independent forum for the exchange of views by international security policy decision-makers. Each year it brings together about 350 senior figures from more than 70 countries around the world to engage in an intensive debate on current and future security challenges.
The list of attendees includes heads of states, governments and international organizations, ministers, members of parliament, high-ranking representatives of armed forces, science, civil society, as well as business and media.
The conference is held annually in February. The venue is the Hotel Bayerischer Hof in Munich, Bavaria, Germany. The Bayerischer Hof opened on October 15, 1841. It was constructed by Joseph Anton von Maffei a German industrialist, Maffei was one of the three most important railway pioneers in Bavaria. Picture of him in the Napoleon hand in the jacket pose. It was designed by Friedrich von Gärtner also from Bavaria.
The purpose of the conference is peace through dialogue, senior politicians, diplomats, military and security experts from the member countries of NATO and the European Union, but also from other countries such as China, India, Iran, Japan and Russia are invited to discuss the current issues in security and Defense policies.
So, what's is the purpose of the Munich Security Conference? The Munich Security Conference is the world's leading forum for debating international security policy. It is a venue for diplomatic initiatives to address the world's most pressing security concerns. The conference is organized privately and therefore not an official government event. It is used exclusively for discussion; an authorization for binding intergovernmental decisions does not exist. Furthermore, there is – contrary to usual conventions – no common final communiqué.
The high-level meeting is also used to discrete background discussions between the participants. In 2009, the Munich Young Leaders was first launched in cooperation with the Körber Foundation.
Remind you of anything?
The Munich Young Leaders provides a platform to discuss present political topics and develops operational projects on social and political issues. Its agenda is focused on key areas of European foreign policy in the Middle East and in Eastern Europe, Russia and the CIS. Held in parallel to the Security Conference, this annual roundtable series is designed to directly involve the next generation of decision-makers into the main conference proceedings.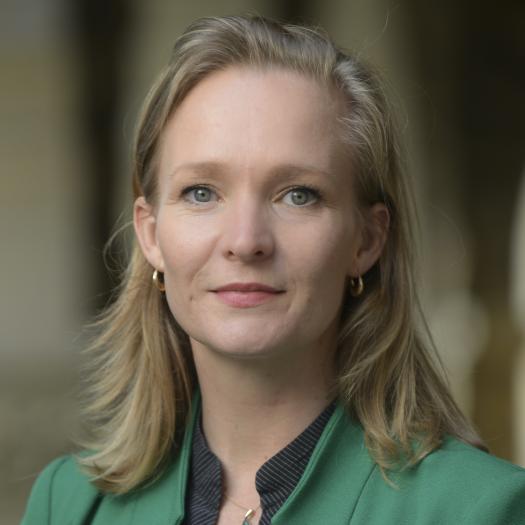 One such example of a Munich Young Leader is Marietje Schaake, a Dutch politician who served as Member of the European Parliament (MEP) from the Netherlands between 2009 and 2019. Schaake has been named international director of policy at Stanford's Cyber Policy Center, as well as an International Policy Fellow at the University's Institute for Human-Centered Artificial Intelligence
She writes a column for the Financial Times
The Wall Street Journal called her "Europe's most wired politician", while CNN called her a "rising Dutch star" who makes an increasingly rare "passionate and public case for liberalism and globalization"
Remember that the NTI was founded by CNN founder Ted Turner III.
Schaake has several unpaid additional positions, including the following:
There were many more these individuals shaping world policies and enacting these secret powers without our authority. On 25 September 2020, Schaake was named as one of the 25 members of the "Real Facebook Oversight Board", an independent monitoring group over Facebook.
In 2009 two other events were launched and have been conducted annually since then. In 2013, the Cyber Security Summit was created as a fourth conference series. The first event was conducted under Chatham House Rule.
Since 2013 Munich Security Conference and German Newspaper Frankfurter Allgemeine Zeitung organize an annual Energy Security Summit. The first edition of the F.A.Z. appeared on 1 November 1949, no doubt a CIA funded operation.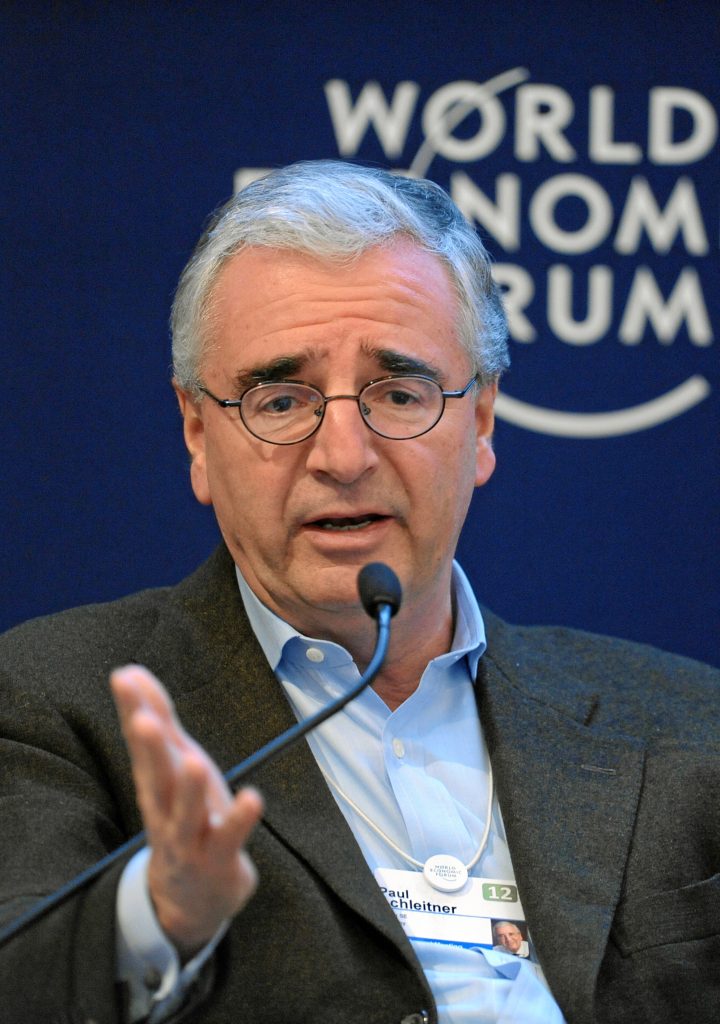 According to media reports the 2013 meeting, the supervisory board chairman of Deutsche Bank, Paul Achleitner attended. Paul M. Achleitner is an Austrian businessman/banker with multiple deep state connections.
After working at the consulting firm Bain and Company and Goldman Sachs, where he was managing director of the German subsidiary, in 2000, he joined the board of Allianz AG, he has been at the Bilderberger Meetings from 2013-2019, Achleitner is a member of the Steering committee of the Bilderberg group. & Munich Security Conference Advisory Council he also attended the 2020 WEF.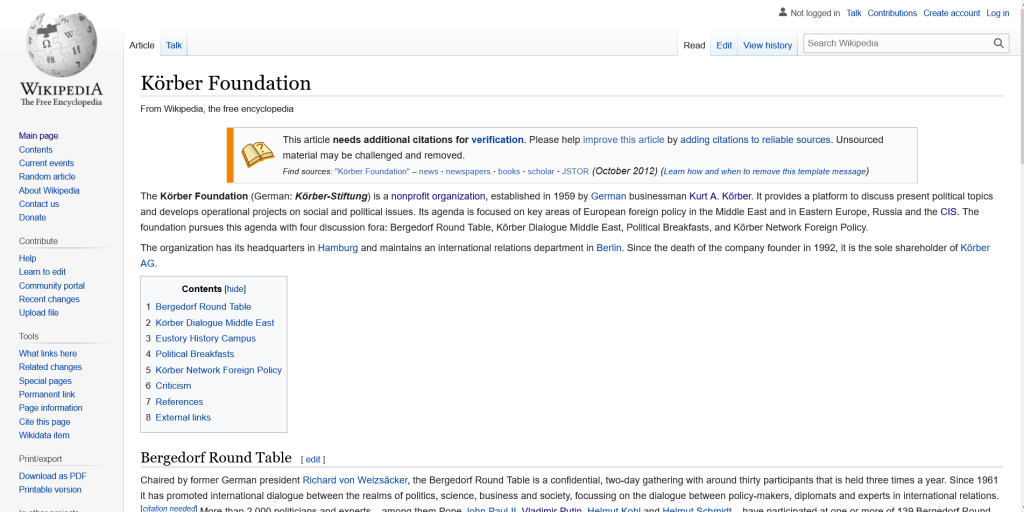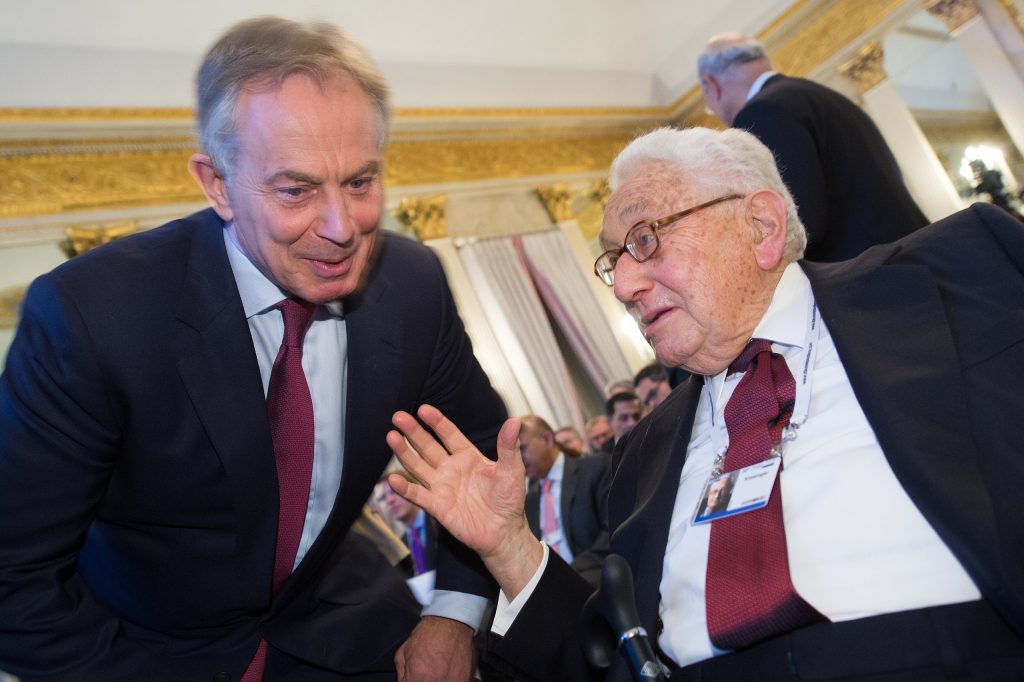 Who Funds the Munich Security Conference?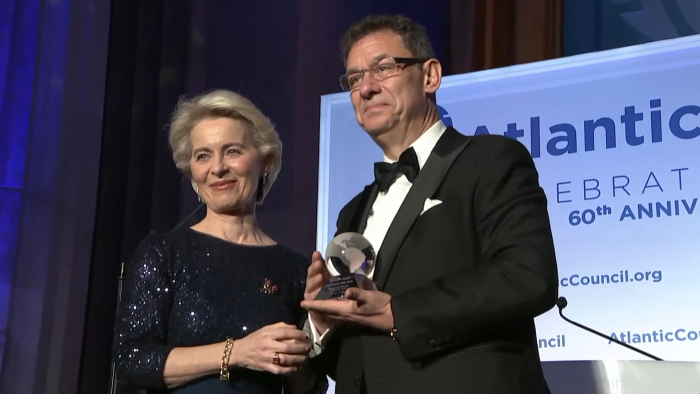 Atlantic Council
An American think tank in the field of international affairs, favouring Atlanticism, founded in 1961. It manages ten regional centres and functional programs related to international security and global economic prosperity. It is headquartered in Washington, D.C. It is a member of the Atlantic Treaty Association. In 2021, donors giving more than $1 million were the American Securities Foundation (founded in 1947 by William Rosenwald, the son of Julius Rosenwald, Rosenwald received the Solomon Bublick Award of the Hebrew University of Jerusalem (Yuval Noah Harari, now Gates Funded, Yissum Research Development Company is the university's technology transfer company, founded in 1964.
Yissum's business partners include Boston Scientific, Google, ICL, Intel, Johnson & Johnson, Merck, Microsoft, Novartis, GRAIL, and many more.) in recognition of his "significant contribution to the progress and development of Israel"
The Rosenwald Fund (also known as the Rosenwald Foundation), was established in 1917 by Julius Rosenwald and his family for "the well-being of mankind."
The Rosenwald project emphasized locating people with syphilis and treating them, during a time when syphilis was widespread in poor African-American communities, Rosenwald served on the board of the Tuskegee Institute for 40 years.
Tuskegee University is a private, historically black land-grant university in Tuskegee, Alabama. From 1932 to 1972, Tuskegee Institute collaborated with the United States government in the Tuskegee syphilis experiment by which the effects of deliberately untreated syphilis were studied. This was a direct violation of the Hippocratic Oath; Tuskegee Institute collaborated with the United States government in the Tuskegee syphilis experiment
Other donors are, Bahaa Hariri a Lebanese-Saudi billionaire business man, Hariri made a significant donation to the Lebanese American University Medical Center (LAUMC) to help carry out its vaccination campaign to fight the COVID -19 virus., He sits on the Atlantic Council's international advisory board, he is the eldest son of assassinated former Lebanese Prime Minister Rafic Hariri, and the brother of former Lebanese Prime Minister Saad Hariri.
Embassy of the United Arab Emirates, Facebook, Goldman Sachs, The Rockefeller Foundation, and the UK Foreign, Commonwealth and Development Office are also funders.
The Atlantic Council is an influential extremely militaristic influence network and think-tank, staffed with military, CIA, and their attendant politicians; and CEOs from strategic industries, like oil and media. It has strong connections to NATO, and is a central part of the modern military-industrial congressional complex.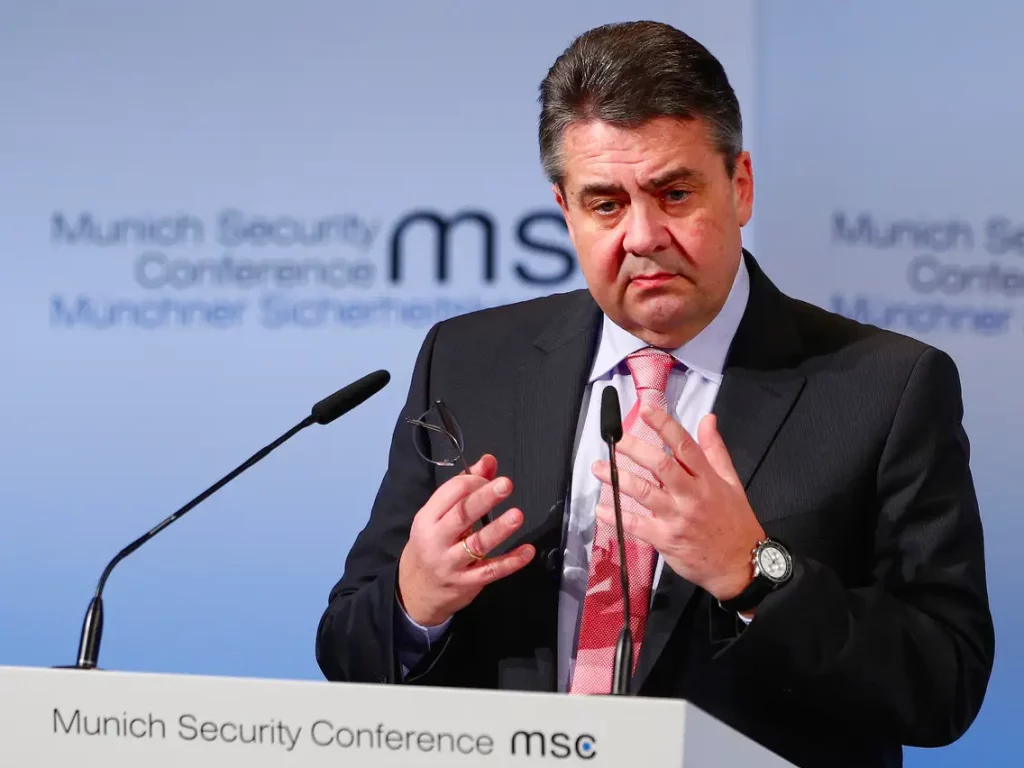 Atlantik-Brücke
The Atlantik-Brücke is the most powerful US-German deep state network in Germany. All Chairmen since the founding of the organization in 1952 are deep state operatives.
The chairman is Sigmar Hartmut Gabriel, also a member of European Council on Foreign Relations, International Crisis Group/Board, Trilateral Commission, WEF/Global Future Council on Geopolitics. Atlantik-Brücke was founded in Hamburg in 1952. Eric M. Warburg (founder of the firm currently known as Warburg Pincus) son of Central Banker Max Warburg was a brother of US central banker Paul Warburg. He also headed German intelligence. The membership list has a significant overlap with Bilderberg-participants.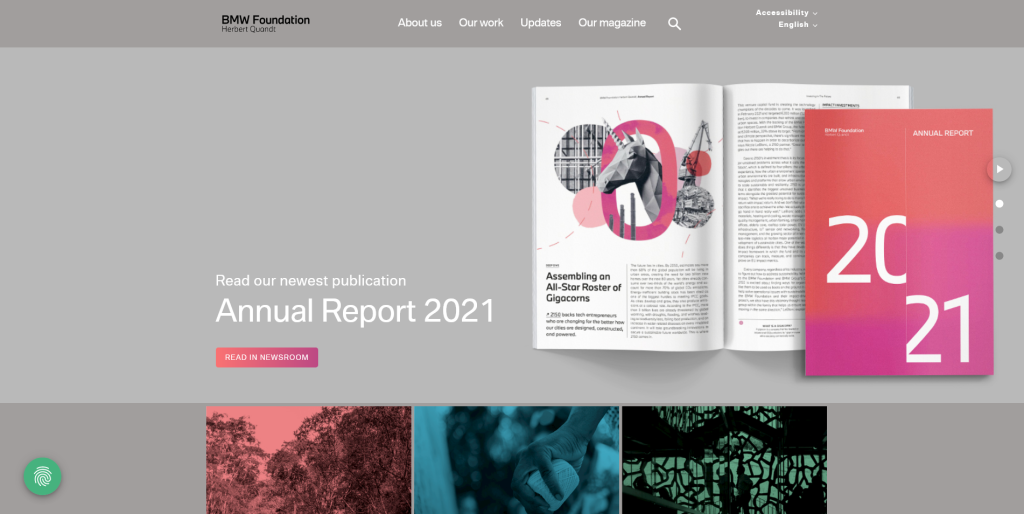 Günther Quandt founded an industrial empire that today includes BMW and Altana, a car and chemical companies. He was married to Magdalena "Magda" Ritschel in 1920, the couple had six children. In 1929, Quandt discovered that Magda was having an affair, so they separated and divorced later in the year. The terms of the divorce were quite generous to Magda.
Magna went on to marry Joseph Goebbels, Adolf Hitler was his best man.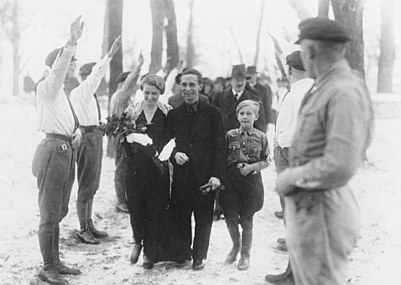 The BMW foundation, according to its own words;
"Inspires leaders worldwide to take their social responsibility seriously and to work as responsible leaders for a peaceful, just and sustainable future".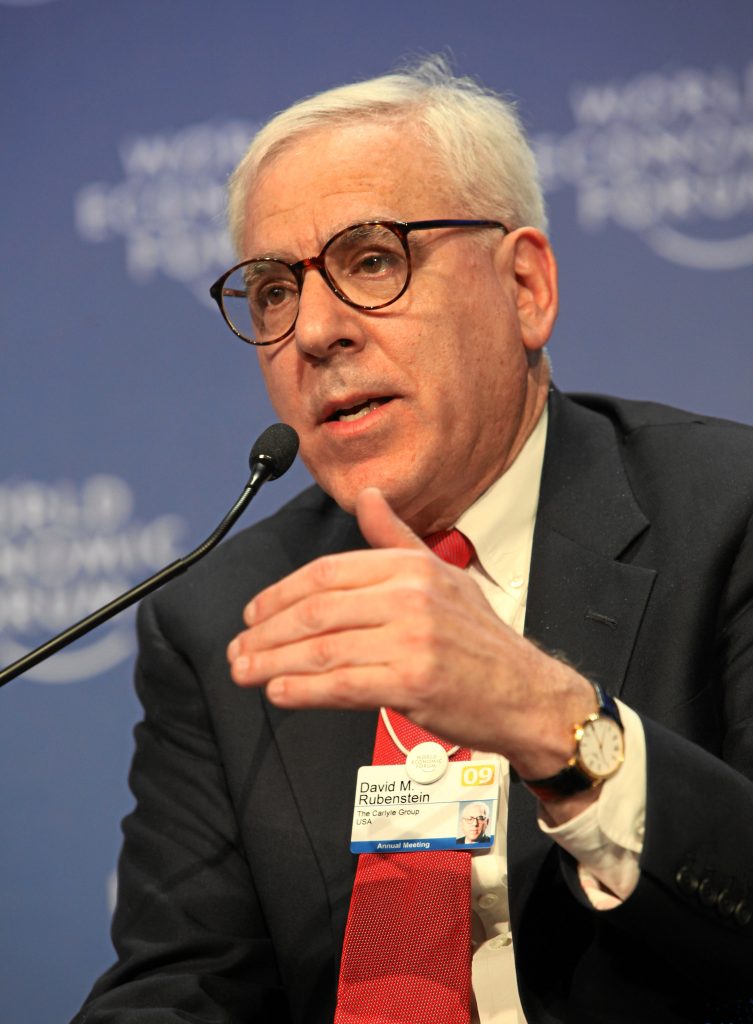 Brookings Institute
Billionaire David M. Rubenstein co-founder of the Carlyle Group, became co-chairman in 2014.
Funded by Rockefellers, Soros, Gates, Koch Brothers, Omidyar Networks & Pepsi Co.
CSIS CENTER FOR STRATEGIC & INTERNATIONAL STUDIES
It ran the Call for Action CSIS-LSHTM High-Level Panel on Vaccine Confidence and Misinformation was an October, 2020 panel discussion arranged by the deep state think-tank Center for Strategic and International Studies (CSIS) and one of the 3-4 research institutions that have been most central in the COVID-19 psy-op, the London School of Hygiene and Tropical Medicine (LSHTM)
The vaccine implementation program
"could be bundled to facilitate applications for unemployment or distribution of basic nutrition supplements or food items during Covid-19 vaccine appointments, as appropriate."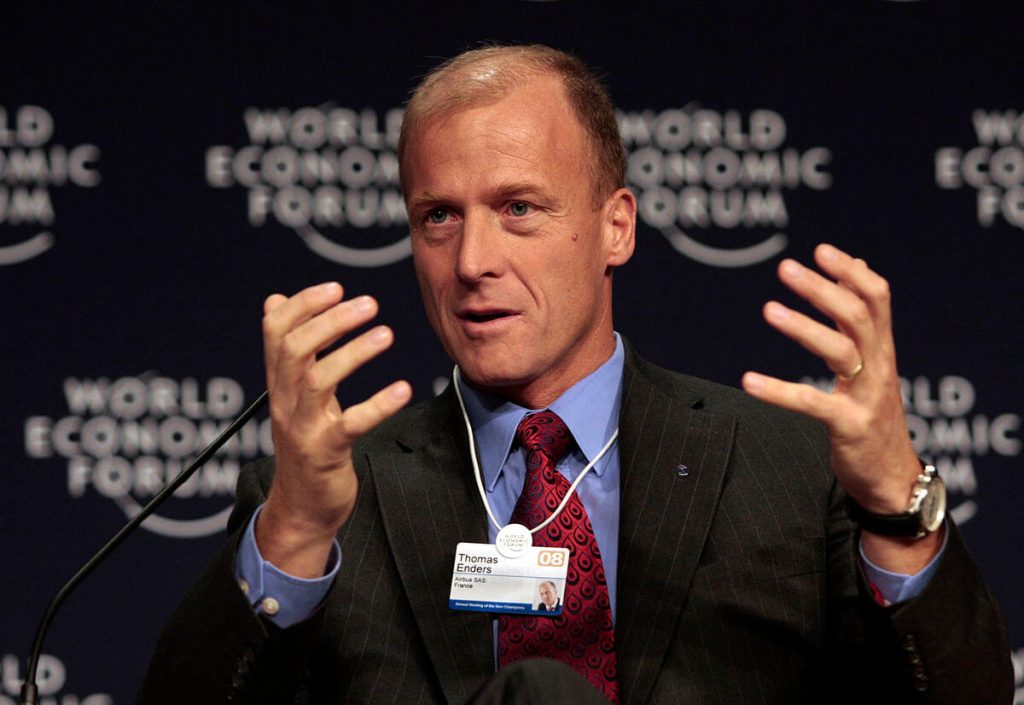 DGAP The German Council on Foreign Relations
The association was founded in 1955 in Bonn. The model for the foundation was in many respects the Council on Foreign Relations in New York and the Chatham House in London. The DGAP sees itself as a practical think tank offering demand-driven policy advice on a scientific basis. It works to actively influence the foreign policy opinion-forming at all levels.
Its work is aimed at decision-makers in German politics, business, public administration, in NGOs, in the military and to the general public. Current CEO is Dr. Thomas "Tom" Enders a German businessman.
In 2017, Enders was the chief executive of Airbus Group and was a member of the Bilderberg Steering Committee from 2009-2018, Member of Atlantic Council/Distinguished Leadership Awards, Atlantik-Brücke, Bilderberg/Steering committee, German Council on Foreign Relations, International Institute for Strategic Studies/Advisory Council, Munich Security Conference/Advisory Council
Also, BDI, Bill & Mel, CCDCOE or NATO Cooperative Cyber Defence Centre of Excellence, CHATHAM HOUSE, Welcome Trust, Airbus, Merck, Microsoft, Bayer, eon, Investcorp, Raytheon Technologies, & many more all fund these types of NGOs & simulation events.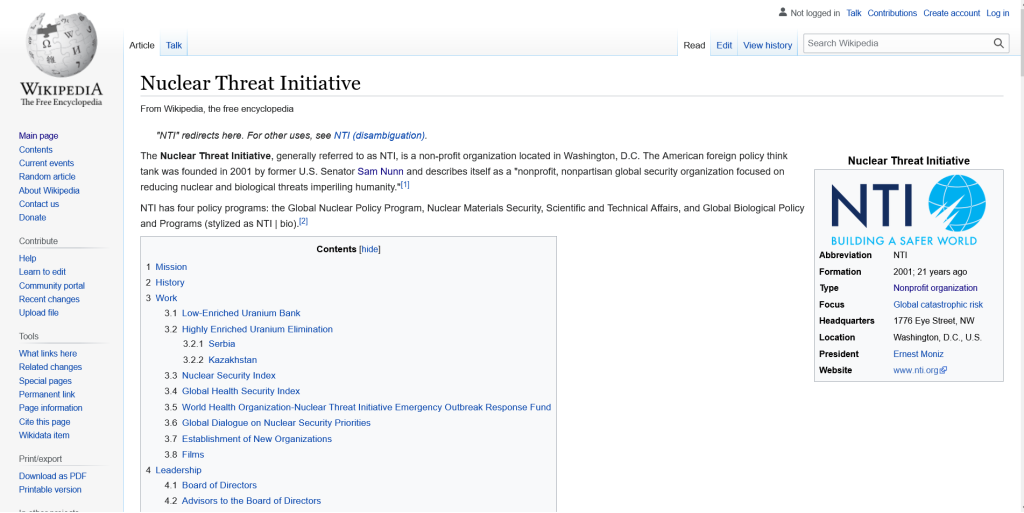 NTI Funders
Open Philanthropy is a research and grant making foundation that aims to share its findings openly.
Its current co-chief executive officers are Holden Karnofsky and Alexander Berger, and its main funders are Cari Tuna and Dustin Moskovitz, Dustin says that their wealth, worth $11 billion. Dustin Moskovitz made an $11 billion fortune through co-founding Facebook, and later Asana. Other funders who have contributed to Open Philanthropy include Instagram co-founder Mike Krieger. Open Philanthropy's investments in global health and development include efforts to cure iodine deficiencies, repair the environment, and prevent malaria.
Just this year in Feb (2022), Open Philanthropy gave a Grant Amount $4,998,769 to PATH to support ministries of health in Ghana, Kenya, and Malawi in the implementation of the RTS,S malaria vaccine.
This grant was made on Give Well's recommendation.
PATH (formerly known as the Program for Appropriate Technology in Health) is an international, non-profit global health organization based in Seattle, with 1,600 employees in more than 70 countries around the world. Its president and CEO is Nikolaj Gilbert, who is also the Managing Director and CEO of Foundations for Appropriate Technologies in Health (FATH), PATH's Swiss subsidiary. PATH focuses on six platforms—vaccines, drugs, diagnostics, devices, system, and service innovations—to develop innovations and implement solutions that save lives and improve health.
In 2009 Bill Gates announced today that the Bill & Melinda Gates Foundation will provide $168.7 million to PATH for its Malaria Vaccine Initiative to develop vaccines for malaria a disease that kills thousands of African children every day.
2021 – The newly released 2021 World Health Organization's World Malaria Report confirmed this progress but also the heavy toll that malaria continues to have on the world, reporting 627,000 malaria deaths and 241 million malaria cases in 2020, 69,000 more deaths, than 2019.
So much for the vaccines working……
I hope you.ve enjoyed reading this blog, take it easy, see you next time, Baaaa 🙂